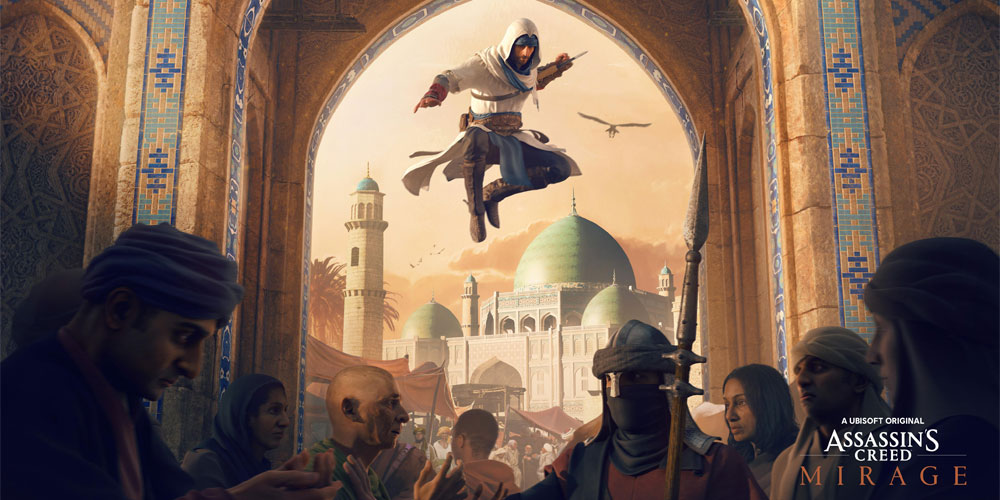 Following an alleged leak, Ubisoft officially confirmed the next Assassin's Creed game to be titled Mirage. Announced on their Twitter, they also let us all know more detailed information will be coming September 10 2022.
Assassin's Creed Mirage is the next Assassin's Creed game.

We can't wait to tell you more on September 10 at Ubisoft Forward: 9PM CEST | 12PM PT. #AssassinsCreed pic.twitter.com/92LoEcrrWs

— Assassin's Creed (@assassinscreed) September 1, 2022
Based on the styles in the images, I'd guess a Persian setting - which will give it a much more original Assassin's Creed feel (though I'm sure many would agree the Ezio saga was peak AC).
Update: Based on an article by Eurogamer, the game is to be set in Baghdad.
The main character is rumoured to be Assassin's Creed Valhalla's Basim - who was a reincarnation, originally born in the Abbasid Caliphate during the 9th century - which would fit with the Iraq setting. The events of the game therefore probably happen around 850 - 870 AD.
Since it apparently has a smaller scope than the recent Vahallah, we could be looking at a pared down Assassin's Creed with smaller areas and less RPG style activities, exploring, and grinding. Hopefully it's a hybrid of old and new Assassin's Creed.
Ubisoft Forward begins on September 10 at 12noon Pacific / 3pm Eastern / 8pm UK (so 5am on September 11 AEST).
We have guides for several Assassin's Creed games, including the much loved Assassin's Creed 2 Feather Tracker and Assassin's Creed Syndicate Location Maps Guide. Check out our Guides for more information.
Welcome to the greatest playground: history.

Learn more about the future of the brand during the Assassin's Creed Showcase, on September 10.#AssassinsCreed pic.twitter.com/WbhCr0D89k

— Assassin's Creed (@assassinscreed) September 6, 2022