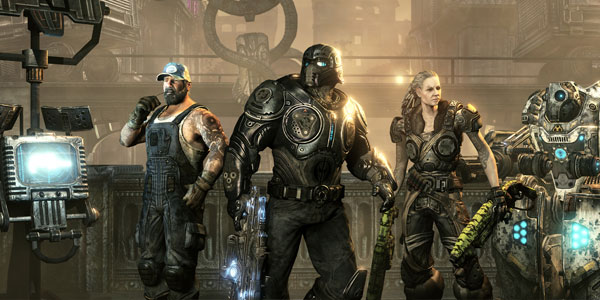 Yesterday EpicGames officially announced the first DLC Pack for Gears of War 3.
The DLC Pack, titled Horde Command, features 3 maps: Azura, Rustlung and Blood Drive. High res screenshots here:
The pack also contains 250GS of new achievements, a couple of new weapon skins, new Horde fortification upgrades and 3 new character skins: Onyx Guard, Big Rig Dizzy and Bernie Mataki.
For the full description check out the Epic Community site.
But... it's on the disk!
A lot of players are complaining about buying something we already own, as this DLC was shipped with the disc.
Epic, however, continue their stance that this is to allow all players to see what we buy. Rod Fergusson had said if we didn't all have the DLC no one else would see our cool 1200msp weapon skins. The key thing to remember is EpicGames is a business.
But how do you feel about this?
For Horde Command Pack, only the player hosting needs to have the new map for all players to play on it. Source
To be clear, it's called the "Horde Command Pack". The first DLC is mainly supporting Horde play, just like the second will be Campaign. Source
To answer a bunch of questions, Horde Command Pack maps are only available for player hosted gametypes like Horde, Beast and Private MP Source
Loading...