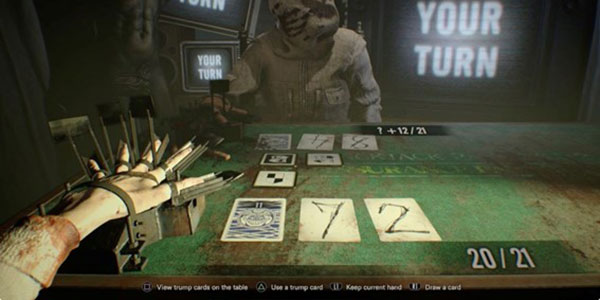 No matter how immersive a video game might be, it's always fun to be distracted from all the action with a nice mini-game. Don't get it wrong - side quests and subplots are great, but well-thought-out mini-games can really keep us engaged and provide us an awesome gaming experience. And card-based mini-games are certainly some of the best pastimes within video games.
Whether you like classic card games like poker and blackjack, or novelty games like The Witcher's Gwent, card-based mini-games have become really popular in the video game industry, with several titles, from RPGs to open-world adventures, featuring some kind of card game. So let's look back at some of the most iconic of these games.
Classic playing cards
Classic card games have been a part of video games for quite some time now, and retro games like Leisure Suit Larry already featured some mini-games based on poker and blackjack.
Fast forward to the 2010s, and blackjack is also featured, as "21", in Resident Evil 7: Biohazard. But don't expect the same rules you would find in one of the websites reviewed by www.onlinecasinogames.com, as Resident Evil's 21 plays out a bit differently than the classic card game, in a somewhat twisted version of blackjack. The game is played between two of Lucas Baker's victims, and players take control of Clancy Jarvis, as he wagers against Hoffman. However, money is not what is at stake here, and the loser of each round either has his fingers chopped off or receives an electric shock.
But poker is probably the card game that has been featured the most in video games. And two Rockstar franchises are praised for perfectly incorporating the game in their gameplays. In the Red Dead Redemption series, poker plays a big role in the storyline and is a part of different missions in both games main plots. The variant present in the series is no-limit Texas Hold'em, and players can find tables with varying stakes and bet limits throughout the maps. In the first title, it's even possible to cheat using a special attire, known as the Gentleman's Attire, which can be obtained by logging into the Social Club account.
In the Grand Theft Auto franchise, card games have been present since GTA: San Andreas, in which it was possible to play blackjack in the casinos in Las Venturas. But gambling was taken to a whole new level in GTA V online mode. The introduction of The Diamond Casino & Resort, in an update released in 2019, gave gamers the possibility of playing classic casino games like slots, roulette and three card poker. With the same rules as real-life casinos, it's possible to play against the house or other players, and there are even tables with different stakes and limits, making it a great way to earn some quick cash in GTA Online.
Novelty card games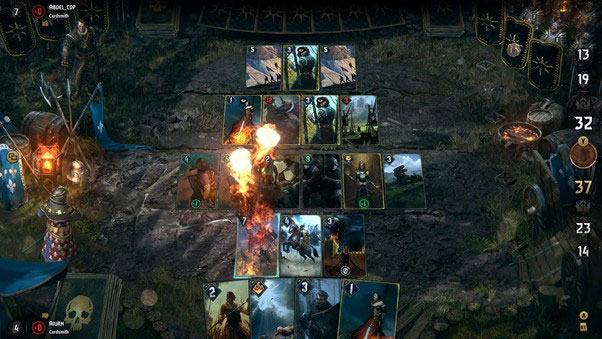 But if you like novelty games better, don't worry, for there are many card-based mini-games for you as well. And with more immersive open-world adventures being released year after year, it's probable we'll see many more come up in the near future.
One of the most praised card games in the history of video games is certainly Gwent, the strategy game featured in The Witcher series. The mini-game was such a success that CD Projekt, the series' developer, released in 2018 a spin- off game based on it. Gwent is a turn-based strategy card game played between two players, in which the goal is to win two out of three rounds, by playing cards and spells to outscore the opponent. Rounds end when both players pass or run out of cards.
One of the most successful franchises in the history of video games, Final Fantasy obviously couldn't be left out of this subject, as the series features one of the games that helped popularize card-based mini-games. With its debut in Final Fantasy VIII, the strategy card game Triple Triad went on to become a staple in the franchise. The game is played on a three-by-three square grid where cards are placed. To win, a player must have a majority of the total ten cards played, which can be done by capturing the opponent's cards. Even though its rules are a bit complicated, they can be easily picked up by playing the game.
Finally, another popular novelty card game in the world of video games, Caravan was introduced in Fallout: New Vegas, by Bethesda Softworks, and quickly became a popular activity within the game. Using decks of loose playing cards, the game is played between two players who must build three opposing caravans of numbered cards. The objective is to outscore the opponent in all three caravans by keeping the number of points on each one above 20 and below 27, and preventing the opponent from doing so.