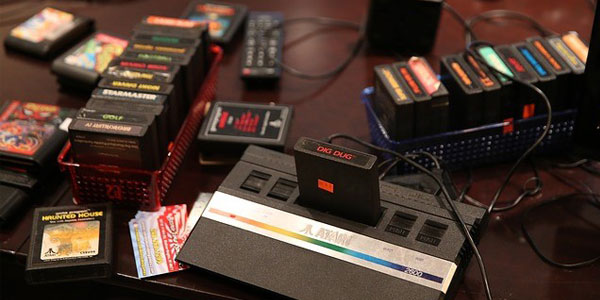 Many films make more money on the merchandise side than they do on ticket and DVD sales, and video games are one of the most profitable of side-lines. Some of these spin-off games go onto be considered as classics in their own right, which redefine their genre; 1997's Goldeneye being a prime example in the first-person shooter world. Most other film-to-game adaptations are less celebrated, but can still be fun to play. Here's some blasts from the past that are worth looking out your old consoles for.
Tron (1982)
In a neat twist, this video game was adapted from a film about a video game. The 1982 Tron film starred Jeff Bridges when he was still in demand as an action guy, long before his bathrobe days as 'The Dude' in the Big Lebowski. Since the film was loved for its neon-lit action sequences, it was perfect for the arcade market, and if you stepped into any video games hall in the early to mid-80's, you could always be sure of hearing the distinctive Tron jingle. Thankfully you don't need to find one of the few remaining video arcades to play the original Tron, since Xbox Live have it on their platform, and it still feels as fresh and exciting as it did in the 80's.
Galahad and the Holy Grail (1982)
Monty Python's Holy Grail movie in 1975 is one of the most oft-quoted films in history and has become the definition of a cult classic. It should be little surprise then that the video game industry tried to leech on its success, as it did with this Atari 8-bit game. The gameplay on this one is truly weird, as there are no real goals to achieve, with the handbook advising you to choose one or more goals and swear to complete them, such as finding the Holy Grail. However, the Holy Hand Grenade of Antioch is a nice nod to the original film, and if you like the surreal humor of Python, then you should give this game a go.
Popeye (1983)
This one was originally released for the Japanese arcade market, but was later repackaged for home users on the Atari platform. It makes use of characters originally designed for the Donkey Kong game, and it's easy to see similarities between the two titles. Although the graphics seem shockingly basic even by the standards of the eighties, the Popeye tune certainly bring back memories, and punching Bluto after chomping down a can of spinach never gets old.
Bruce Lee (1984)
Bruce Lee's martial arts inspired a generation of karate-choppers in the 70's, but his death at a young age meant the next generation of fans had to be satisfied with this Atari/Commodore 64 title. Although it came out just a year after Popeye, the colourful graphics are so much prettier, and you feel as though you really are punching and kicking your way through a Chinese castle. The game even has a multiplayer mode, so you can challenge a friend to a fight. What's not to like?
Conan: Hall of Volta (1984)
Another one for the Atari 8-bit console, Conan: Hall of Volta is a fun romp through the mythical Cimmerian world of Arnold Schwarzenegger's Conan movies. In truth, the game was originally designed as a boomerang game, before the publisher Datasoft decided to jump on the Conan bandwagon, substituting a sword for the boomerang. It is a lot of fun to play though, as your muscle-bound intrepid hero progresses through seven levels of a fortress guarded by bats, scorpions and fire-breathing dragons.
Bill & Ted's Excellent Adventure (1990)
Before he became Hollywood's go-to superstar in blockbusters like Speed and The Matrix, Keanu Reeves was famous as one-half of the original movie slacker duo, Bill & Ted. In the film, these two high-school students get hold of a time machine and use it to kidnap famous figures from the past to make the best history presentation of all time. The 1990 video game follows the plot of the film very closely, and if the player does not finish the game in time, they fail their history report and lose the game. Released on the Commodore 64 and Amiga platforms, you will need to use an emulator to play this one on your PC, but the effort is worth it, due to the game's ME (Most Excellent) rating and bodacious sound effects.
South Park (1998-2017)
When South Park burst onto our TV sets in the mid-90's, we were shocked and amused in equal measure by the way these badly-drawn schoolboys navigated life's ups and downs. From Cartman getting an anal probe way back in episode 1 to Kenny dying and then being resurrected every week, there was never any lack of 'WTF' moments where these kids were concerned. Such a cult following naturally meant a video game was going to be on the cards, and in fact there have been several releases, starting in 1998 and most recently this year's The Fractured but Whole. In between there have been plenty of fun titles, including a South Park online slot game, a Chef's Luv Shack Special, and 2012's Tenorman's Revenge, where TV's most unwitting cannibal-orphan leads the boys on a chase through time.
The Godfather (2006)
The original Godfather film was released in 1972 to critical and commercial acclaim, so it is weird that we had to wait over 30 years to play an official game. This video game shares some features with Grand Theft Auto, both making use of an open world format, and both starting the player off as a low-ranking gang member. Where The Godfather differs, however, is that you will meet and interact with characters from the film, such as being tasked with placing the gun in the toilet for Michael Corleone or driving Vito to the hospital after he is shot. Marlon Brando was signed up to add his voice to the game, but died beforehand, and both Al Pacino and director Francis Ford Coppola refused to take any part. However, James Caan and Robert Duvall did reprise their roles, and the game is a lot of fun to play and is a must for any fan of the film.
Jaws Unleashed (2006)
The mid-2000's was the time for seventies film classics to be finally honored with a video game, and Jaws followed The Godfather with this interesting offering on PlayStation, Xbox and Windows. The funnest part of Jaws Unleashed is that the player takes the role of the shark itself, and is tasked with eating fish, humans and anything else it can get its teeth into. The game got mixed reception at the time, mostly due to glitches and problems of freezing up, but when it worked, it was a heck of a lot of fun, especially the Bay Patrol Blood Bath.
Saw (2009)
The Saw franchise has been thrilling, terrifying and disgusting movie audiences for some time, so it made sense to release a video game version that would fit in well with the survival horror genre. The game puts the player in the role of Detective David Trapp, who has been healed from his head wound, and must make his way through the abandoned Whitehurst asylum, collecting clues which will identify the Jigsaw killer. There is enough gore and scary situations to satisfy any fan of the film, and the soundtrack is awesomely chilling.
Film-to-game adaptations will always be popular, particularly among fans of the movie itself, and the best thing about these titles is that they rarely get old. What are your favourite games which were based on film and TV shows?