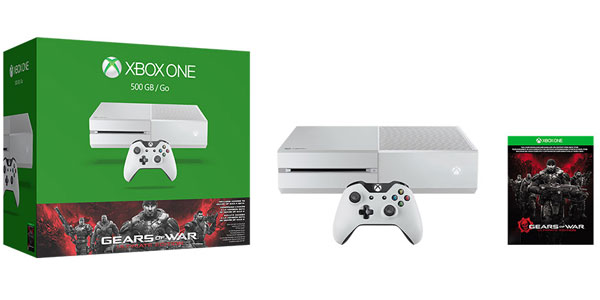 There's really only one problem with the Xbox One Gears of War bundle: The hard-drive is only 500 GB. That's in contrast to some other bundles this holiday season from both Sony and Microsoft which include much more spacious 1 TB hard-drives. As we all know by now, 500 GB doesn't go particularly far in an era of massive AAA video games.
With the Xbox One firmly in second place, Microsoft is that much hungrier for your attention, and, like last year, they have a whole pile of bundles hitting this fall that they announced throughout the course of last week.
For the bundles including Gears of War: Ultimate Edition, keep in mind that buying them by December 31 will also grant you access to all four Xbox 360 Gears titles via backwards compatibility. The more expensive bundles each include some games that provide lots of playtime - Fallout, Tomb Raider and Rare Replay should all promise to keep any gamer busy for quite a while. The smaller bundles feel a bit more like warehouse-clearing efforts. The LEGO Movie Video Game bundle is a bit of a mystery because it's not the best LEGO game available on the platform right now, nor the most recent. It feels like a half-hearted effort to put out a kid-friendly bundle.
Rise of the Tomb Raider bundle: Includes Rise of the Tomb Raider and 2013's Tomb Raider as digital codes and ships with a black 1TB Xbox One
Holiday bundle: Includes Ori and the Blind Forest, Rare Replay, and Gears of War Ultimate Edition, and ships with a black 1TB Xbox One
Gears of War bundle: Includes Gears of War: Ultimate Edition and early access to the Gears of War 4 beta and ships with a 500GB 'Cirrus White' Xbox One
LEGO Movie Videogame bundle: Includes a code for The LEGO Movie Videogame and ships with a black 500GB Xbox One
Fallout 4 bundle: Includes Fallout 4 and a code for Fallout 3 and ships with a black 1TB Xbox One
The Tomb Raider bundle hits November 3, the Fallout bundle November 10. The Gears and Holiday bundles are expected in November, while the LEGO Movie Videogame bundle hits in October. The Gears bundle is only available through Walmart in the U.S., though the black version of the same thing is available elsewhere.
On top of these are the Halo 5: Guardians and Forza Motorsport 6 custom Xbox One systems, the Elite bundle, as well as others. In other words, Microsoft really wants you to buy an Xbox One this year. This program did well for the company last year, putting them over PlayStation 4 on sales charts for the first time, even if just for a couple months.