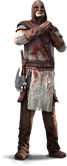 About
This website helps you find all rifts, flags and feathers in Assassin's Creed Brotherhood, and has solutions to all of Subject 16's puzzles.
This guide was built by 'DrMong' (Xbox360: DrMong).
This site is part of MLW games - a network offering free helpful tools and guides.
Data sources
All information on this site was aquired by DrMong or staff of this site, via the game or publically available sources. All locations have been confirmed, and recorded, by staff of this website.